Parents and Home School
Looking for the best scissor skills workbook for your child?
Part of every pre-school and kindergarten curriculum, learning to cut is an important developmental fine-motor skill.
Introduction of scissor skills begins as early as age 2 1/2 and is usually mastered by age 6.
Unlike most workbooks, Linus uses key strategies to help children learn this important skill:
Scissor orientation
Linus is a reminder to keep 'thumb-side up'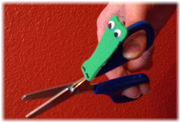 Motivation
Linus asks for help--he's hungry!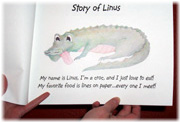 Developmentally sequenced
47 pages feed Linus--what's more fun than feeding a hungry crocodile?!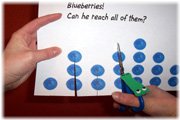 What parents are saying...
"My daughter thinks of Linus as her pet!"
Kristin
Parent of 3 year-old
"I love it! Owen wanted to do the whole book in one sitting!"
Jennifer
Parent of 3 year-old
"My boys love it--they always look forward to feeding Linus"
Janie
Parent of 5 & 3 year-olds
"My daughter's daycare provider said she couldn't believe how well Katie can cut for her age; she said Katie is cutting as well as some of the kids she has who are in kindergarten"
Leah
Parent of 3 year-old
"I've started giving your books as shower gifts"
Lori
Pediatric Occupational Therapist
"My son has Down Syndrome and this was the first time he's ever shown an interest--thank you!!"
Carlos
Parent of 7 year-old